Day 2 of the All-American Bowl training included a morning of offensive and defensive installation followed by a joint afternoon session with both the East and West teams.
Rivals.com national recruitment analyst Sam Spiegelman reflects what we learned from Wednesday's practice and thoughts from the week so far from Texas.
MORE ALL-AMERICAN BOWL: OL vs. DL | Daniel Martin interview | Tuesday's best | Gorney's thoughts
*****
CLASS OF 2022 RANKINGS: Rivals250 | Position | Hold | Stat | JUCO
CLASS OF 2023 RANGEL: Rivals250 | Position | Hold | State
TRANSFER PORTAL: Stories / Coverage | Bulletin board
RIVALS CAMP SERIES: Info / coverage about the camp series 2021
*****
Allar is sub-ranked as No. 71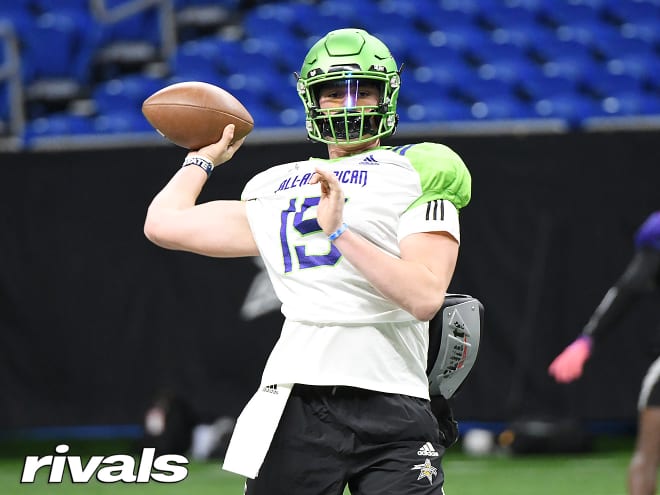 Penn State signature Drew Allar climbed 124 places in the latest rankings update, but at No. 71, the quarterback is still underrated. Allar has an amazing deep ball and excels with off-platform throws. He is also calm from the pocket and even more impressive on the go or buying time for his recipients.
Allar put himself in the discussion in the next row of quarterbacks in this 2022 cycle along with five-star Walker Howard and Alabama-bound Ty Simpson. Along with Conner Weigman and Devin Brown, there is something to mix at the top of the quarterback rankings, where Allar is certainly worthy of continuing his ascent.
SHARE YOUR THOUGHTS WITH PEN STATE FANS AT NITTANY NATION
*****
Recipients win the day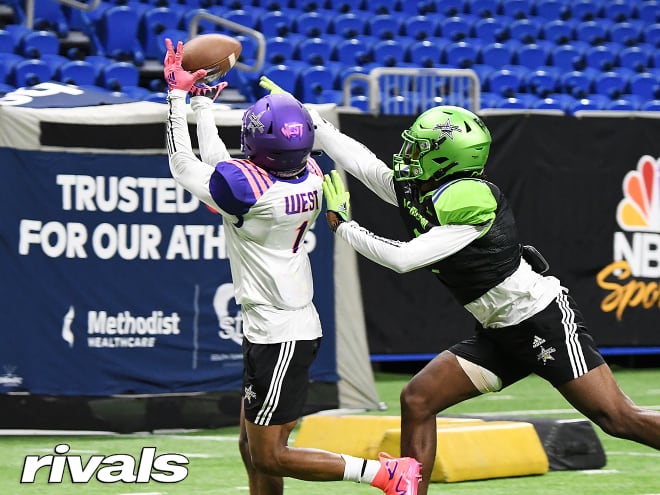 Of all the position groups, receivers and defensive ends won the day. There were a handful of playmakers in discussion about the position of MVP with Kevin Coleman, Isaiah Bond, CJ Williams, Kojo Antwi and Barion Brown all coming up with compelling cases.
Coleman was dynamic in and out of his breaks and is an exceptional route runner who is able to stand out at the top of his routes – even against some of the defensive backs present at the top level. Williams is smooth, able to stretch the field and make it look seamless in the process.
Antwi, the Ohio State signatory, made a handful of controversial grips and played down the field during the day. The Peach State product is also dangerous after the catch. Brown has a similar skill set and did damage over the top. He is explosive with speed down the field, but dropped a few easy scores.
Other recipients with strong days include Isaiah Bond (Alabama). Isaiah Sategna (Arkansas), Landon Samson (South Carolina) and Kyion Graves (Ohio State).
*****
New DB in the five-star conversation
Rivals100 cornerback Julian Humphrey delivered another fantastic day with several passes broken up and an interception during the 7-on-7 part of the joint training session. The signer from Georgia has record-breaking track speed and ball-hawking tendencies, which were on display Wednesday.
Humphrey boasts size (6-foot-2, 180 pounds), speed (21.17 200M; 10.55 100M) and instincts in coverage. He played against some of the best-performing passers-by in Wednesday's practice and has been consistently big at various events throughout the year, including in San Antonio, and should be considered for a fifth star and a spot among the nation's top. echelon of corners in the final update.
*****
Stock up: Vandy, Purdue, Duke commit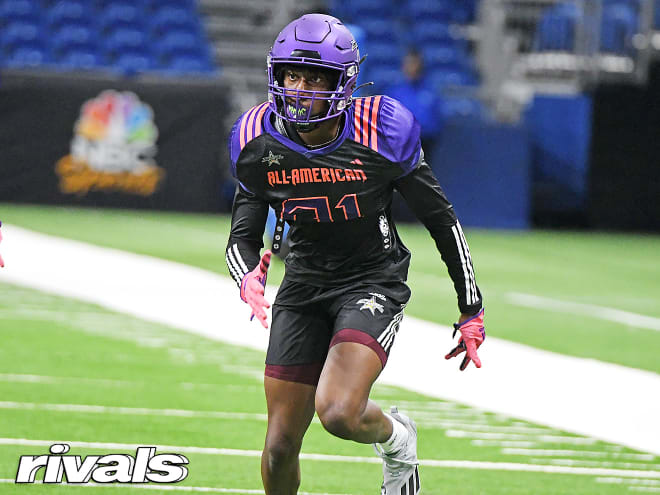 There is a surplus of well-known four- and five-star recruits on hand, but some of the stock prospects include a trio of three stars. This group is led by Vanderbilt CB-promised Trudell Berry; Duke DE signed Vincent Anthony Jr. and Purdue DE signed Nic Caraway.
Berry, who turned from Marshall to the SEC, is tall (185 yards) and able to walk step by step with some of the faster attending receivers and defend himself over the top. He is a player who has gone up in a big way. Anthony has been absolutely amazing. He is explosive from the edge and generated a good push-back from several positions. First year coach Mike Elko has a young, high-upside lineman to work with. Kommen has also thrived in his transition from linebacker to finish. He is wildly athletic by length and has continued to blink in sprints this week.
*****
Five-star DE show out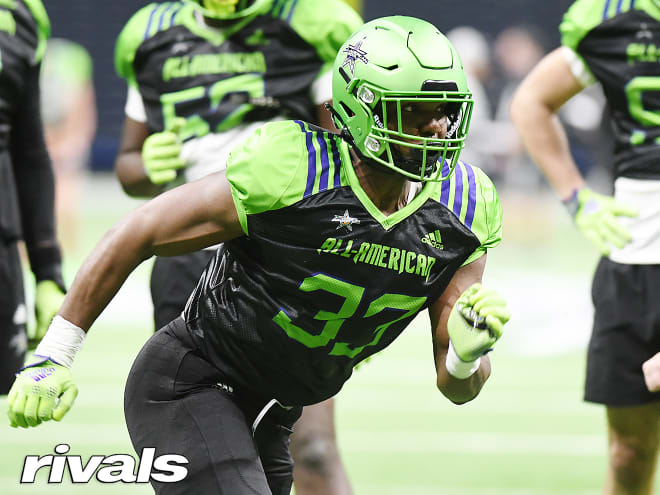 Defensive ends are a first-class position that we can expect to hear being called early and often during the NFL Draft. The best in the country continued their strong start at the All-American Bowl drills in San Antonio with dominant efforts in the East-West showdown.
Penn State signing Dani Dennis-Sutton has been one of this week's overall best players. The Maryland native put pressure on his future teammate Allar during the team's training early in the day, then showed off the explosive first step and the mix of power and speed against SEC offensive tackle signers.
Georgia's signer, Mykel Williams, was just as ugly on Day 2. The five-star showed violent hands and devastating swimming moves as part of an impressive arsenal of pass-rush technique. Williams plays with leverage and was just as effective at winning from the edge as he was inside as well.
Marvin Jones Jr. going to give a formidable 1-2-stroke opposite Williams. That Other things the five-star future Bulldog recorded without a doubt the week's most impressive representative to date with his deadly long arm. He also mixes length, speed and power and flies over the edge. Georgia may not have signed on to the No. 1 class, but a front with Jones, Williams and five-star Bear Alexander is unfair by most standards.